Founded in 1984 in San Felice sul Panaro, Italy, COROB first introduced fully automatic color dispensing system to the paint market. The company always provides color excellence to our customers offering a complete range of point-of-sales equipment, that start from entry-level to high-performance volumetric and gravimetric dispensers. Our wide range of products includes mixers, shakers and software. Furthermore, COROB develops complete automated tinting solutions and advanced production systems for different industrial applications.
Support and customer care are globally available, thanks to a highly recognized network of official partners.
Our aim is to provide the best products and customized solutions to our clients, offering high quality and innovative items, as per our historical heritage.
COROB dedicates important resources to improve equipment's offer and develop new solutions in distinctive areas, in order to satisfy all types of requirements and requests. We acquired Novaflow Systems Inc., in order to expand the production with a wide range of fully automated gravimetric blending systems, able to handle small up to large batches.
The company has more than 35 years of specialized experience and employs more than 600 people in the world. General headquarters are based in Italy and the industrial plants are in Italy, India, and Canada. Any production facility is specialized in a unique product offer and is optimally set to serve the local market, optimizing delivery times and accessibility to customers' visits.
Corporate reliability and stability; our history makes the difference

We provide complete and customized solutions

COROB products, solutions and service are globally available
Production and engineering centers
Sales and service centers
Efficient global support network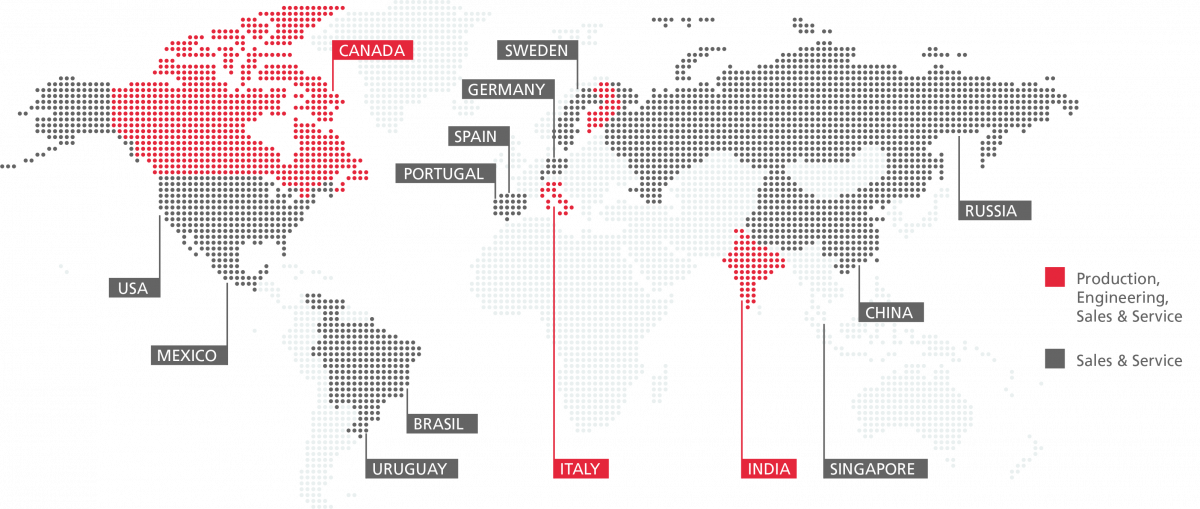 San Felice sul Panaro (MO), Italy
Certification: Facility: IMS / Products: CE, UL
The San Felice sul Panaro location is the main production site and COROB's headquarters. In the San Felice facility, COROB invests in the research, development, and testing of our current solutions as well as next-generation technologies. Our manufacturing facilities cover equipment ranging from dispensers, mixers and shakers all the way up to customizable factory automation systems. This site is compliant with assembly UL-certified units. In 1995 COROB obtained an ISO 9001 Quality Certification and more recently the ISO 14001:2015 Environmental Management System and ISO 45001:2018 Occupational and Safety Management System Certifications all certified from KIWA-CERMET.
Daman, India
Certification:  Facility: IMS / Products: CE, UL
Founded in 1998 with the intent to serve just the local market, the Dman facility has evolved to become a global production center. This plant sets the highest standards for organization and efficiency. The Daman facility is dedicated to the production of both dispensers and mixers and is compliant with assembly UL-certified units.
Brockville, Ontario, Canada
Certification: Products: CE, UL, Atex, CSA, ESA
In business since 1992, Novaflow has a proven track record of delivering dispensing equipment that provides very accurate batch manufacturing results while reducing waste and improving production times. Novaflow solutions can vary from entry-level with a quick investment payback, to complex factory automation solutions.