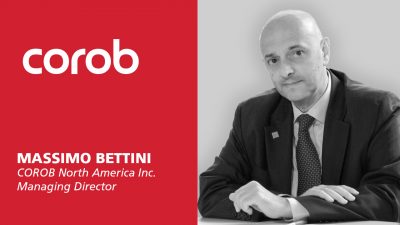 12 January 2021
We are delighted to inform you that, starting from 1st of January 2021, Massimo Bettini has been appointed as Managing Director of COROB North America Inc., in addition to his existing responsibilities as Managing Director of Novaflow Systems Inc. Canada.
Massimo, who has been formerly leading the NOVAFLOW business in Canada since August 2019, possesses a wealth of knowledge in COROB's In-plant technology, having spent many years as the Head of COROB In-Plant Division in Italy. His international experiences made him a great specialist of paint and coating industry, as well as of the ink sector applications.
Massimo is skilled in Electronics, Operations Management, Startup Development, and Business Strategy. He has a strong sales professional with a demonstrated history of working in the industrial automation industry.
"Besides being a real specialist, Massimo is an inspired leader and a deeply caring individual," said Erik Bothorel, CEO of the COROB Group and Chairman of COROB North America Inc. "we see this every day in how he lives with our values, unlock potential in those he leads and creates a positive impact for our customers. I believe this new appointment is the beginning of an exciting new chapter in securing the expansion of our business in the US."
Massimo Bettini, as the newly appointed MD of COROB North America Inc. said: "I'm thrilled to have been given this new challenge and can't wait to give, also in this regard, my contribution to the growth of the Company."
To learn more about how Massimo Bettini and his Team can support you and your business you can reach him by writing to massimo.bettini@corob.com.
This new appointment represents the beginning of an exciting new chapter for our business in North America.
We hope you'll share our sense of purpose and optimism at the dawn of this New Year!